I have a news release coming out Monday about a new discovery about anemia. (That's right, you're getting an exclusive sneak peak!) In a nutshell, our Adam Goldfarb, MD, and his colleagues have discovered a delicate clockwork mechanism within the body that controls the production of red blood cells. This is important because those cells carry oxygen throughout the body. If you have too few, you develop anemia, and that causes fatigue and weakness and makes it difficult to concentrate.
This is a cool discovery in its own right, but I was struck, while talking to the researchers, with how poetic their descriptions of the work were. Shadi Khalil, an MD/PhD student, told me about an epiphany that led to the discovery. He was examining bone marrow cells at the time when he noticed that they had big pools of a certain hormone receptor inside them: "I thought it was beautiful," he recalled. "I just stood there at the microscope looking at these cells."
Scientists spend a lot of time looking at cells and doing science-y things, and sometimes they take for granted how cool their work is, and how truly amazing the world around us is. I'll sometimes ask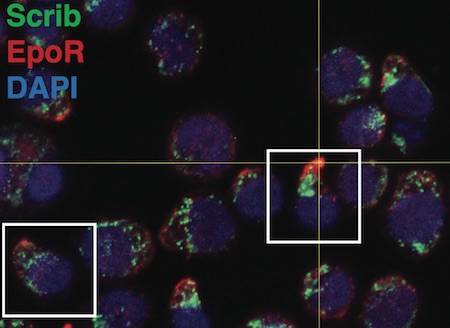 our researchers for interesting things we can show and they will just shrug, having forgotten that the average person doesn't get to see this sort of thing very often. So it was lovely to hear Khalil describe the work in this fashion.
But that wasn't the only piece of poetry in this story. Looking at the hormone receptor welled up inside the cells, Khalil had the thought that perhaps this explained why some people's bodies don't make enough red blood cells: Too much of the receptor stored inside the cell and not enough on the outside, where it does its work. That thought put him and his colleagues on the path to the new discovery. But there was still a piece missing, and, in a lovely piece of scientific serendipity, another researcher in the lab, Lorrie Delehanty, had already found it.
Delehanty was working with a model of anemia the lab developed when she noticed that when dropping the amount of iron way down caused a certain protein, called Scribble, to disappear. This would prove to be an important gear in the elegant clockwork mechanism that controls the production of red blood cells. Basically, it works like this: The amount of iron in the blood affects the amount of the Scribble protein available, and Scribble controls whether the hormone receptor is welled up inside the bone marrow cells or doing its job on the outside. "We realized that this was kind of a complicated symphony that starts with iron and ultimately controls how much and what kind of messages the cells get," Khalil said.
It's quite elegant, isn't it? And to think this complicated mechanism is just one among countless others that are keeping us ticking along every moment of the day.