This is one of my favorite stories: Our M. Mitchell Smith built an amazingly powerful microscope, piece by piece, and now he and collaborator Dean H. Kedes have used it to reveal how a cancer-causing virus attaches itself to our DNA. That knowledge could let scientists figure out how to flush the virus — and others like it — from our bodies. In short, that could mean a cure for incurable viral infections such as HPV (human papillomavirus) and Epstein-Barr.
I love everything about this story. I love that Mitch Smith saw a microscope like this and decided to make his own, even though he's trained as a molecular geneticist and not as an optical physicist. I love that he's spent years quietly working on it. And I love that he and Dean Kedes have used it for such incredible work.
I even love the warning sign that lights up outside the room, which you can see here: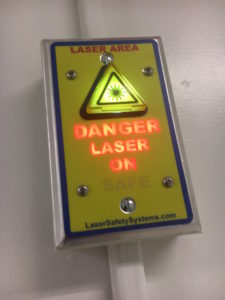 To reveal the viral "tether," the researchers used fluorescent antibodies to mark individual molecules and then recorded their location in space. They then combined the resulting images to reveal an outline of the shape, like you might discern the shape of a building at night by its lights. But I also like the poetry of how Dr. Smith described it at one point:  "We have to put the the image together like Seurat, one dot at a time."
This work, to me, embodies the ideals of the UVA School of Medicine: enterprise, innovation, self-reliance and bold exploration. And it's just plain cool.